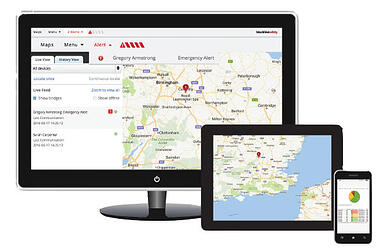 Blackline Live Overview
The Blackline Live portal is at the core of all G7 solutions, equipping businesses with leading safety monitoring tools, dashboard and comprehensive configuration management of fielded devices. Monitoring portal user accounts deliver everything needed to manage an emergency situation effectively — the safety status of every team member is visible, complete with custom emergency response protocols. Employee worn devices are easily configured for specific working environments, with G7 features such as gas detection limits and lone worker check-in intervals easily customized with a few clicks. G7 wirelessly communicates compliance and usage data for automatic reporting from Blackline Live, alleviating the need for manual data collection. Available on desktop and mobile, Blackline Live provides all the tools necessary to manage a world-class safety monitoring program.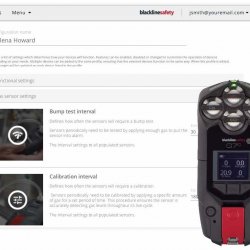 Device Configuration
G7 is entirely configurable. The Device settings determine how your device will function — features can be enabled or disabled to customise device functionality to meet your needs.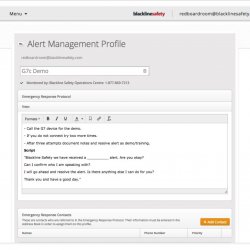 Alert Profile
Alert profiles determine how and when a Blackline Device will alert monitoring personnel of an incident. Blackline Live delivers safety monitoring tools and access to gas detection alerts in real-time. Monitor and manage alerts from receipt through to resolution using your tailored and documented emergency response protocol.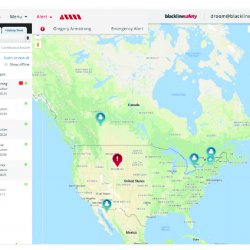 Map
Quickly and simply assess the safety status of every team member via their G7 device. Alerts are received and indicated on the Live map View, specifying your employees' exact location and type of alert. In History View, access past locations of a specific device or of an entire fleet.
Completely configurable
The employee-worn G7c and G7x monitoring devices are easily configured for specific work environments. Each G7 device is managed in Blackline Live using configuration profiles that allow for tailored device functionality. Devices are configured over-the-air, to ensure that they are always up-to-date and working as they should. The Alert profiles are also configured through Blackline Live, with documented custom emergency protocols tailored to the device.
Alert profiles are configured in Blackline Live, with documented custom emergency protocols that instruct monitoring personnel how to manage optimised emergency responses. Using the address book contacts stored in Blackline Live, personnel know who to call and how to escalate responses, up to and including Ambulance, fire or police.
Monitoring services
No matter if you decide to monitor in-house or take advantage of Blackline's 24/7 Safety Operations Center, monitoring personnel use Blackline Live to gather critical insights and workflows to manage emergency alerts in real-time. As a cloud-based web portal, Blackline Live doesn't require IT approved downloads or costly installation — accessing your account is as simple as logging in. By delivering situational awareness communicated from employee-worn devices in the field, Blackline Live provides all the tools necessary for monitoring personnel to manage world-class emergency response.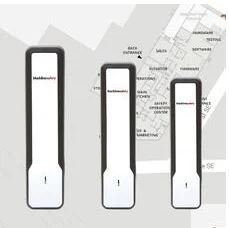 Indoor location technology
Custom floor and site plans work together with Blackline Location Beacons, to deliver a more comprehensive situational awareness of facilities. Location Beacons augment location transmission where GPS alone may not be sufficient. Beacon position is recorded in context of custom floor or site plans uploaded into Blackline Live. The location of Beacons, and those of nearby devices are displayed on top of the correct floor or site plan on the map in Blackline Live.
Blackline G7 devices support gas detection programs and are equipped with gas sensors that wirelessly communicate compliance and usage data to Blackline Live. This information is then used for usage reporting, alleviating the need for manual data collection. From incident through to resolution, all activities are time-stamped for future reporting and include notes used to document the response.