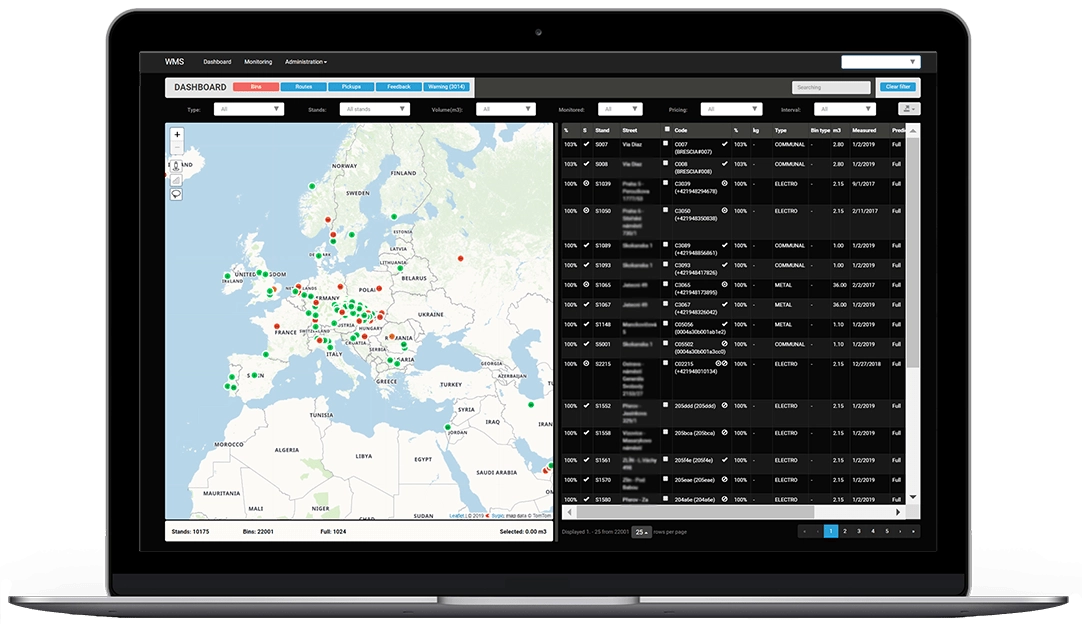 Detailed bin inventory is available for all monitored bins and stands. You can view them on a map and even visit them using Google Street View. Bins are displayed as green, orange, or red circles on the map, with the number in the circle representing the last measurement of the bin's fill level (%).
The Dashboard provides detailed information about each bin, including its capacity, waste type, last measurement, GPS location, collection schedule, and pick recognition.
Here is a brief explanation of each of these fields:
Capacity: The maximum amount of waste stored in the bin.
Waste type: The type of waste that is accepted in the bin.
Last measurement: The date and time of the last measurement of the bin's fill level.
GPS location: The latitude and longitude coordinates of the bin. (optional)
Collection Schedule: The day and time the bin is scheduled to be collected.
Pick recognition: A flag that indicates whether a waste collection crew has picked up the bin.
Detailed bin inventory can be a valuable tool for waste management professionals. It can help to identify bins that are overflowing or that need to be emptied more frequently. It can also help to ensure that waste is being collected promptly and efficiently.