What Are Asset Trackers and How Can They Help Me?
Asset trackers are self-powered GPS tracking devices used to locate, manage and monitor the movement of non-powered assets. Their battery life is generally up to 5 years.
What Are Geofences and How Can They Help Me?
A geofence is an electronic area mapped out our GPS tracking software. The areas can be any shape or size you need. It is also possible to set up geofences within geofences.
Alerts and Reporting
See how our alerts and reporting can improve safety and increase productivty.
Complete Peace of Mind
Our GPS asset tracking units come with a lifetime product warranty, no lock-in contracts and a no quibble 14 day money back guarantee for your peace of mind.
GPS Asset Tracking
Our range of professional GPS tracking units provide real-time tracking for your company's important assets. Available on a web-based browser or smartphone app, you have total control of your fleet 24/7.
Safe and Secure
All products are fully approved for use in Australia with secure access.
Web Based Software
Intuitive and easy to use
What you see is what you get. Click on the icon, get that information. No searching around hidden menus and confusing techno-babble set-up screens.
So user-friendly and intuitive that you will not need an instruction manual!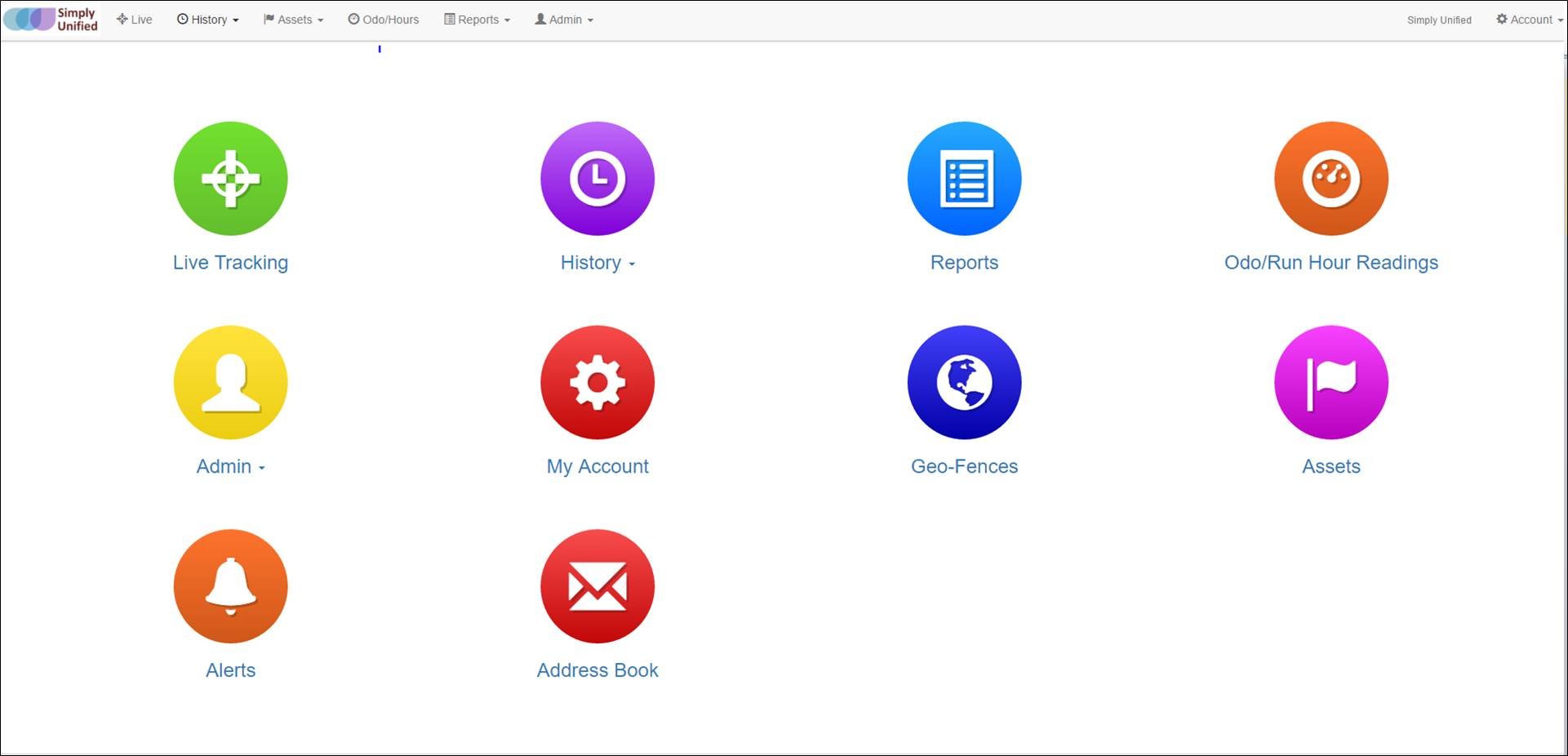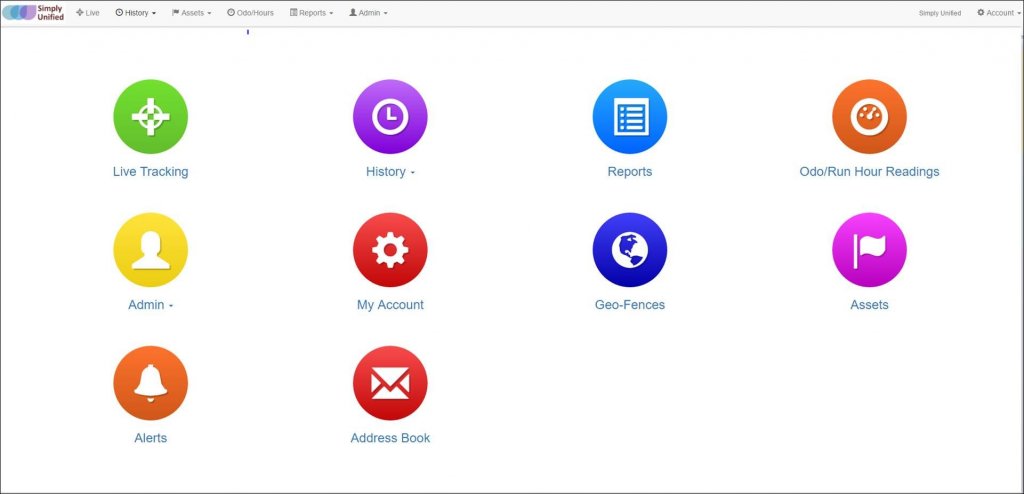 The information you need most
Simply Unified GPS Tracking Software has been carefully designed to deliver the information you need most when you need it. Unlike other platforms you wont be bombarded with meaningless mounds of telemetry data!  Only useful, visual and meaningful graphic map displays, events & alerts, and excel based reports.
Get the information you need to drive efficiency, productivity and safety.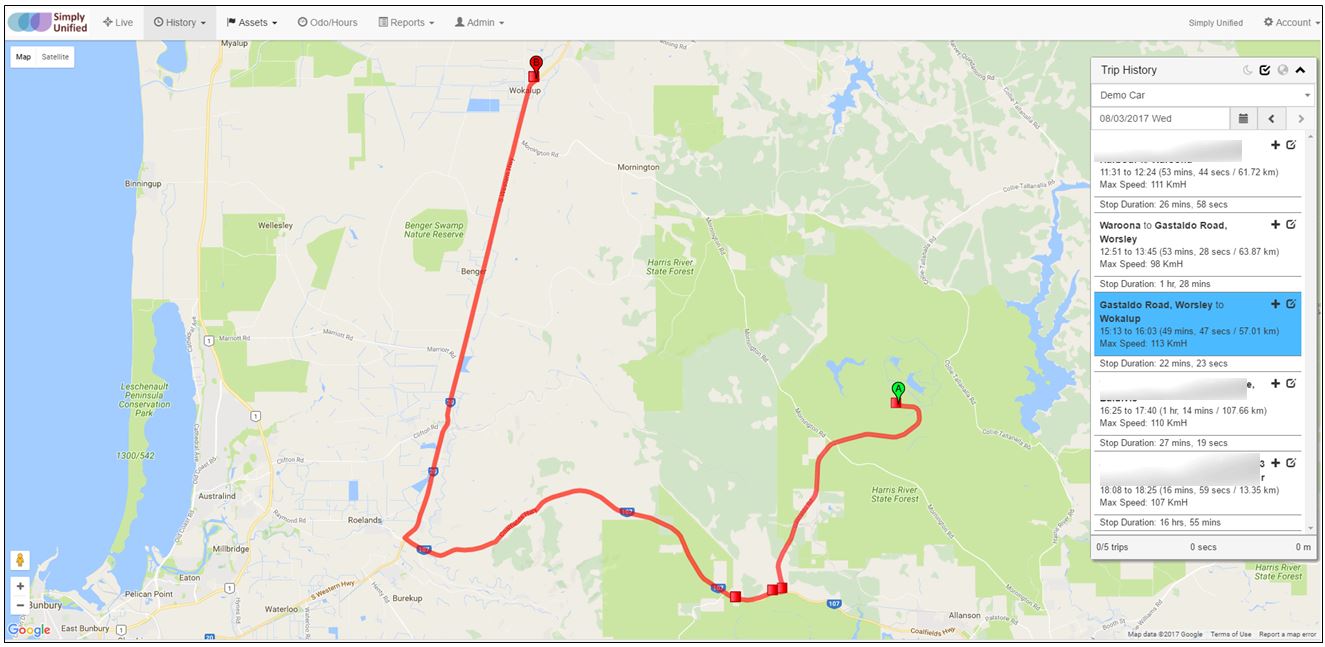 Touch friendly live view screen
As the world becomes more mobile, touch friendly, browser based responsive software is becoming the new gold standard, a standard which Simply Unified meets and exceeds
With Simply Unified GPS Tracking Software you can do everything on your mobile device that you would normally do at your desktop!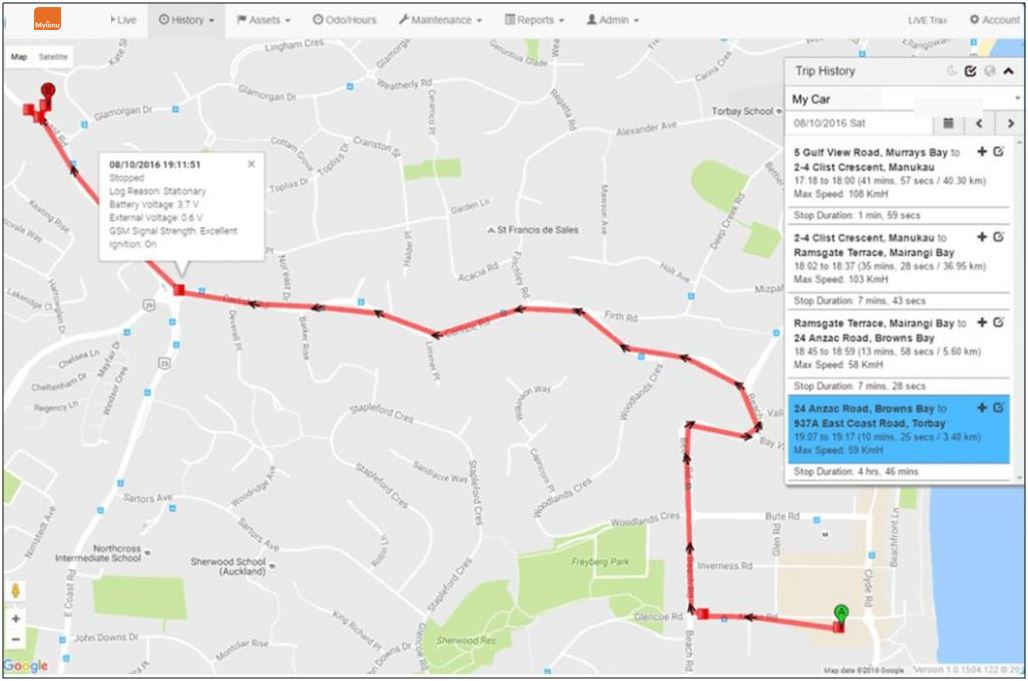 Conveniently reports in Excel
In addition to pdf and html, Simply Unified GPS Tracking Software offers extensive Excel based reports, with pivot tables embedded for data manipulation. Save your favourite reports, configure your own report formats and even preview them on screen before downloading.
No queuing, processing or waiting, just click and open!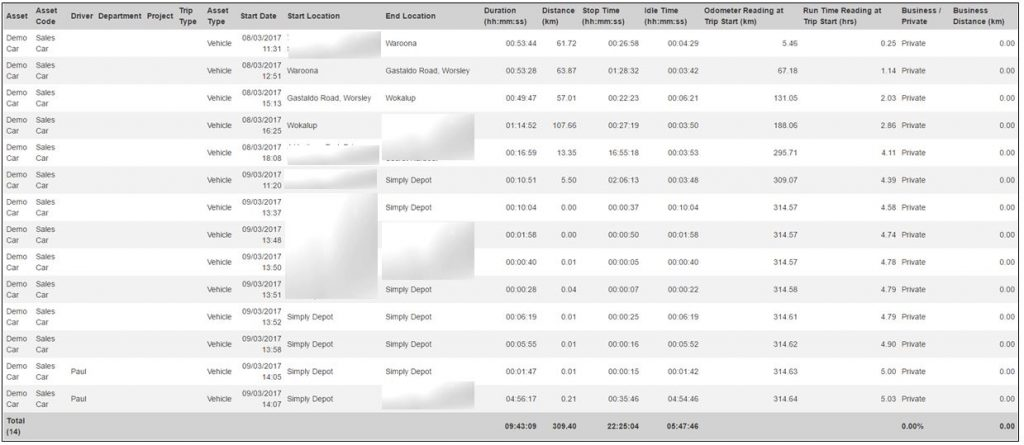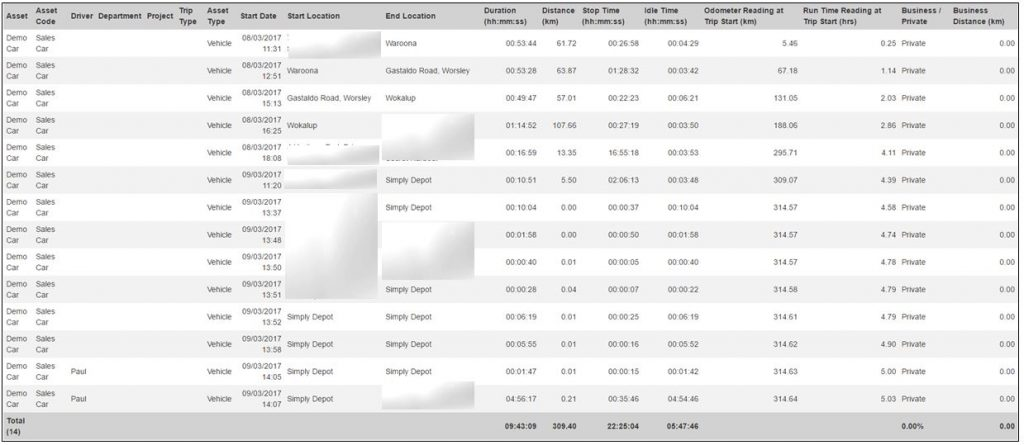 Timeline feature highlights events & incidents
The Timeline feature is an exciting innovation unique to Simply Unified. Events, alerts and activities are recorded in the Timeline creating an instantaneous visual overview of a vehicle or assets activity.
Use the Timeline to quickly understand milestones and incidents.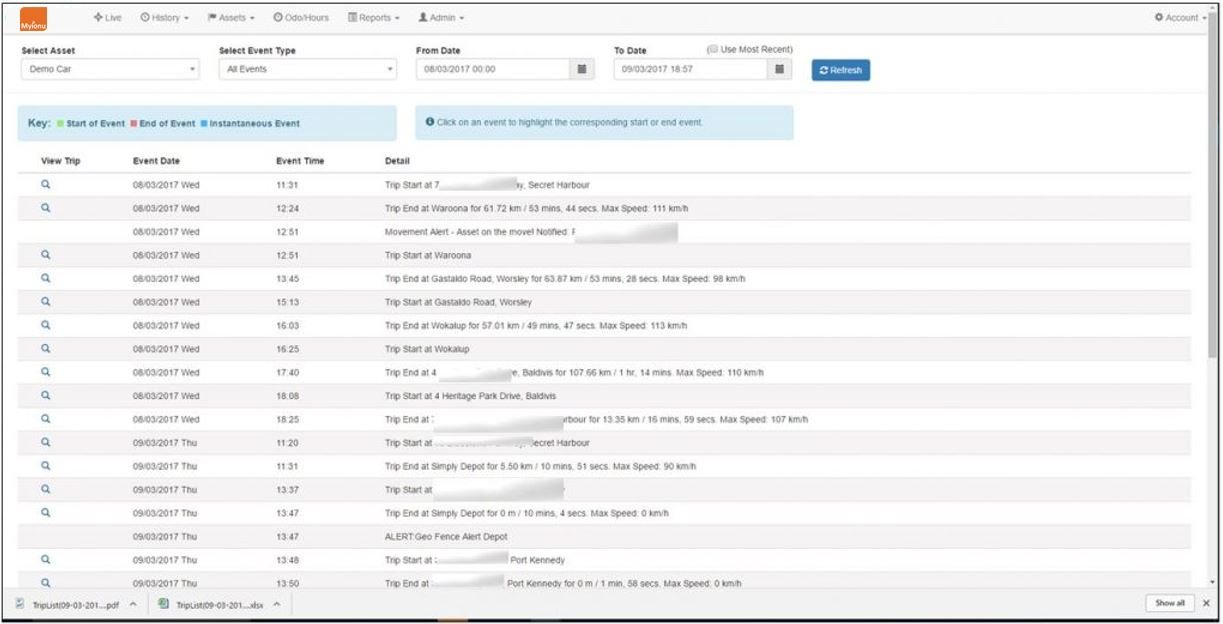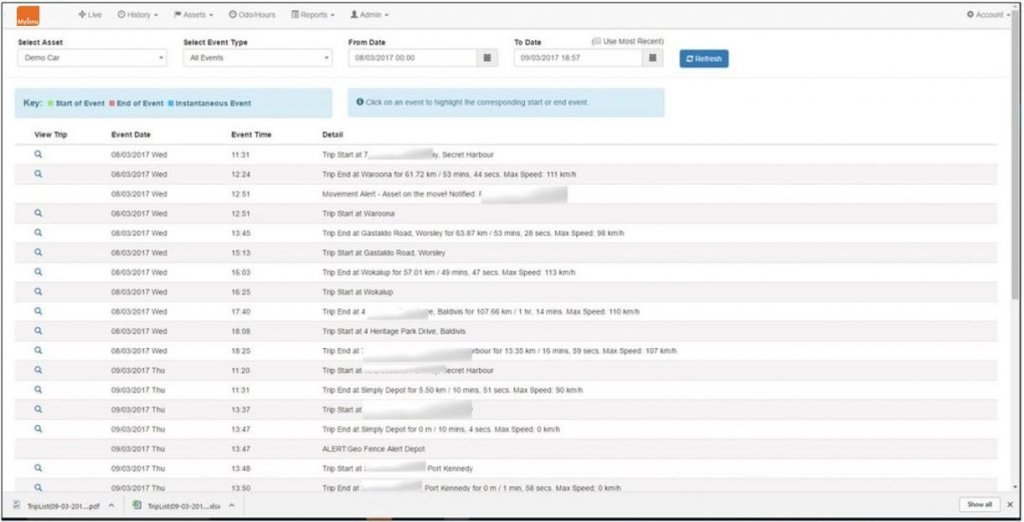 Manage Trips as business vs. personal
…or set your own trip categorization criteria. Set custom categories for trips e.g. sales, quotes, service, deliveries etc.
Easily create logbooks, business travel reports, customer service reports or any other output.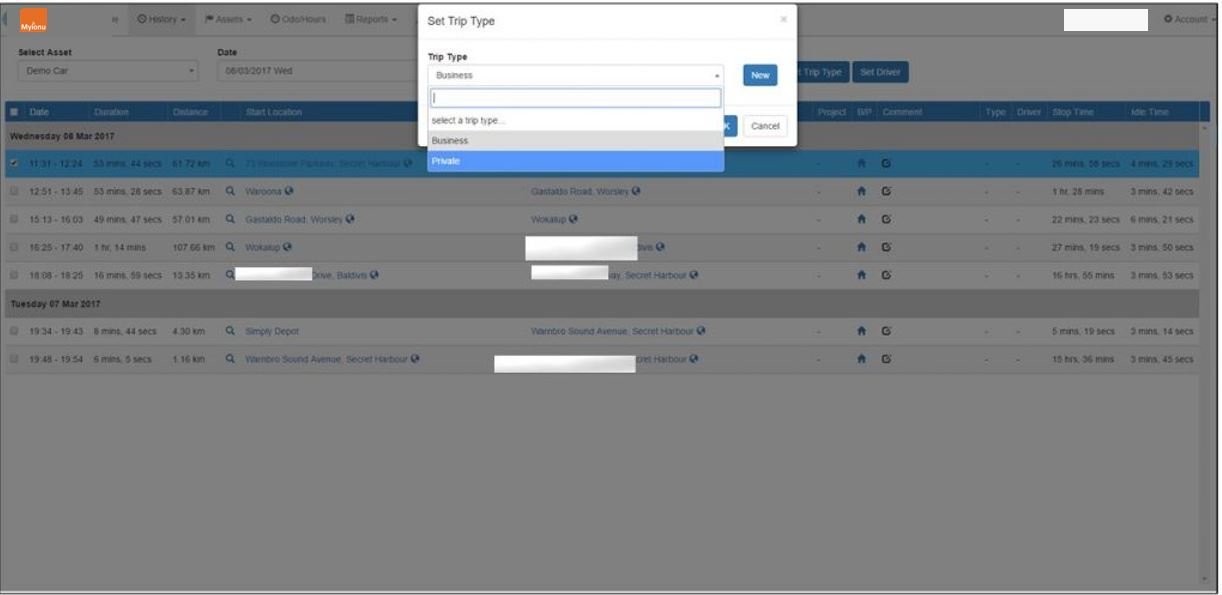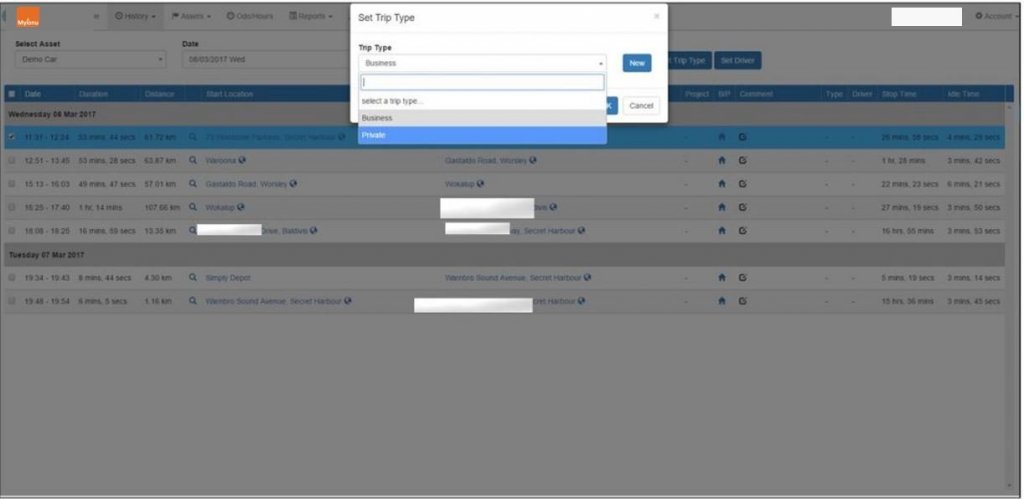 Geofencing
Quickly set geofences in order to raise alerts or record time devices arrive, leave or remain in a specified area.
The are no limits tot the number of geofences permitted.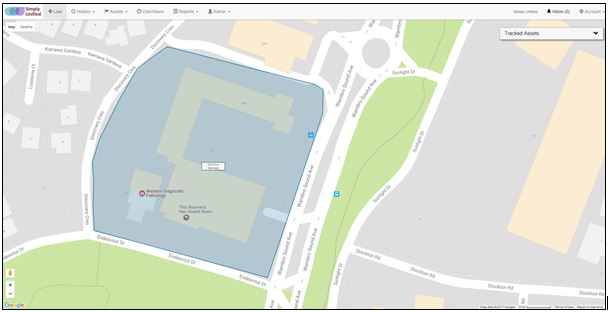 SmartPhone APP
Available for IOS and Android devices
Quickly locating an asset is now easier than ever with the telematics.guru App. Log in on any Apple or Android device and use the live tracking facility with detailed vehicle information overlaid.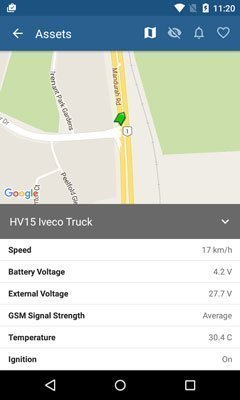 Easily select an Asset from the List
The Telematics.guru App makes it simpler than ever to see where all of your assets are located or travelling in a single glance.  Click on an asset to see the live view screen for an individual asset.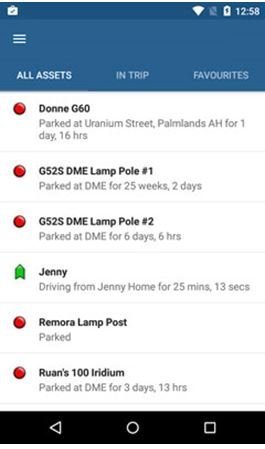 Live tracking with the power of Google maps
Easily switch to satellite view to get a better understanding of where your assets are. Watch your assets travel in real time on satellite imagery.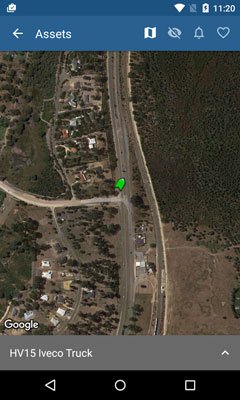 Movement Alert … Simple to set
Want to know when your vehicle or asset moves? Easily set a movement alert from the App and receive notifications if any movement is detected.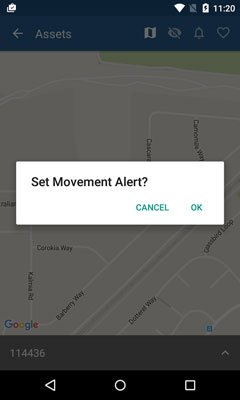 Recover a lost, stolen or misplaced asset
Easily activate Recovery Mode from the App on trackers that are configured to only deliver daily updates for assets that have gone missing!  The tracker will begin live tracking within the App to facilitate asset recovery.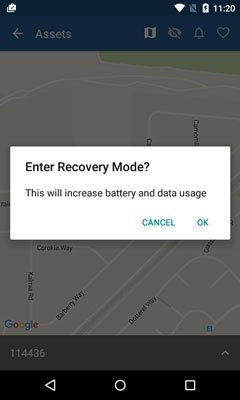 What Are Asset Trackers?
Asset trackers are self-powered GPS tracking devices used to locate, manage and monitor the movement of non-powered assets. Their battery life is generally up to 5 years.
Asset trackers are commonly found in industries such a mining, agriculture, building and construction, oil and gas, and a range of service and rental based business.
GPS  Asset trackers provide a location based on a number of triggers, including time, movement and in some cases exposure to a change in light, temperature or humidity.
This data is transmitted across the mobile network or where there is no mobile coverage, data can be sent via satellite from almost anywhere.

Asset Maintenance
Raise maintenance alerts based on time, distance or run time

Alerts
Generate alerts based on conditions ,for example: movement or entry/exit from locations

Locations
Get location updates based on time, distance or activity

Save Time
Manage logisitics by allocating nearest asset to customer sites
Carolyn Watt
Quarry Contracting
The benefits to our company for using Simply Unified's GPS Asset & Vehicle Tracking systems have been enormous.
We can see in 'RealTime' where our vehicles are located which is priceless for providing customers delivery and ETA times – all without having to contact staff.
The ability to monitor usage – speeds and odometer is also useful for servicing schedules.
It's comforting to know that our equipment is monitored, I can sleep at night knowing that in the event of theft (all too common nowadays) I have a heads up to tracking our assets down.
Frank Peronace
Director. Skheme Pty Ltd
Simply Unified's Personal Tracking Device has been invaluable to us to keep us informed of the whereabouts of our ageing (but very active) mum, giving us peace of mind that we can quickly locate her if need be. The device, with its long battery life and small size, makes it very easy to ensure that it is always on her person and always with enough charge for proper operation.
Joe & Carol Molloy
WA
Just to let you know that we are very happy with the personal tracker SU-8000 P for our daughter who is profoundly disabled and non verbal.It gives us peace of mind to know exactly where she is at all times when she is out and about with support workers.Thanks again for your help and advice.