In Australia, it is a legal requirement for employers to monitor the health and safety of the employees, specifically those who work remotely and in isolated locations since 1 January 2014 (please see Working Alone Guidance for Western Australia). Statistics have shown that workers are twice as likely to be injured when they are in remote conditions. There were also reports stating that the workplace is critical in controlling the high injury rates.
According to Safe Work Australia, industries with the highest risk of serious worker injuries include:
Transport
Warehousing
Healthcare
Postal
Social Assistance
Fishing
Forestry
Agriculture
Mining
The industries listed above often have mobile and lone workers who are outside the metropolitan area. Although it is challenging to be in a high-risk environment, many employees still choose to work in rural and remote locations. One reason is that they trust the capabilities of their employers in ensuring their safety. They are also reassured that they can get the assistance they need.
The trust that employees give to their employers is essential. There are many ways to maintain that trust. One of the most important is to have an effective means of communication. Whenever there is an emergency, the worker can get help with just the touch of a button.
Duress Products Help Curb Lone Working Challenges
Any workplace has a certain level of risk that both employers and employees have to face. Even office workers can fall into an unfortunate accident at any time. However, the risk of harm heightens with a lone worker who has to face the danger alone. That's why employers have to consider the use of apps and products to ensure remote workers are safe whilst working alone.
Here at Simply Unified, we offer Duress products for all types of lone workers. But which one should you pick for yourself or your lone worker? Let's take a look at the available choices: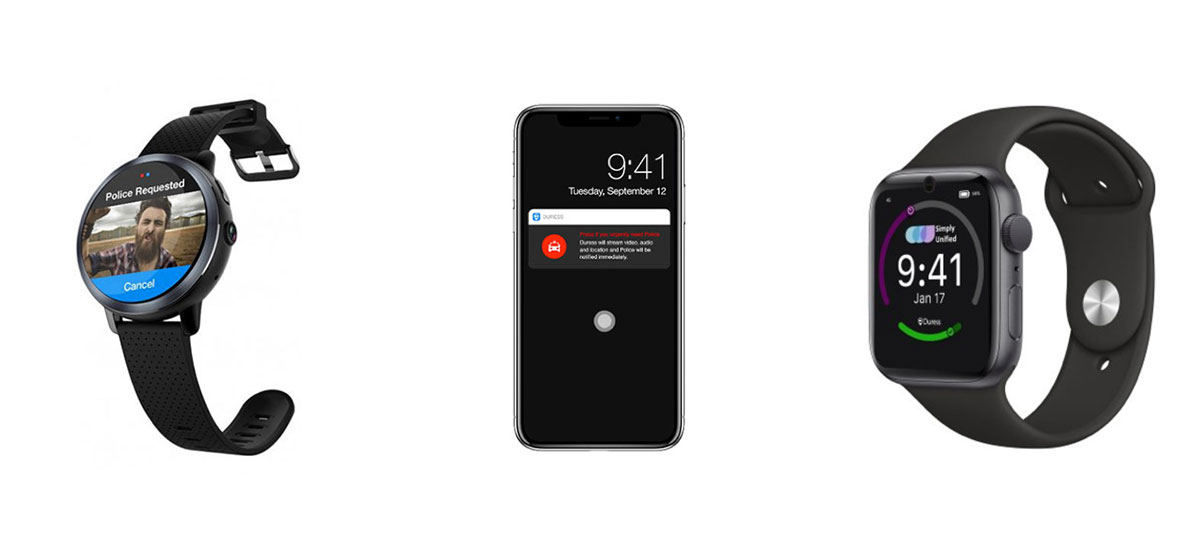 Duress FalconThis product is suitable for everyone. It has a long battery life of up to 72 hours, so there is often no need to recharge the device for more than a couple of days. It's beneficial if the worker has no regular or easy access to a wall socket or an electric source.

Duress Falcon is a wearable device with an IP67 rating, meaning it can handle contact with dust and water. This device offers nationwide coverage and even extends to New Zealand. Therefore, you can communicate with your employee anywhere in and out of the country. Other features include:

Two-way communication
Instant help alert with just three taps on the device screen
Internal signals (specifically useful for teams)
Welfare timer for check-ins
Auto-generated interval escalation for missed check-ins
Fall detection or man-down alarm

This Duress product is suitable for any worker, including those who require wearing a discreet safety device. It provides two options for wearing: on the wrist like a regular watch or clipped to the pocket, backpack, or shirt. For best results, employers should make sure that the lone worker in an area with a 3G or 4G connection.

Duress AppIf the remote worker is in a place with a dependable cellular service, the Duress app is a good option. It has numerous useful features, including:

GPS tracking
Voice communication between employer and employee
Live video streaming with audio
Help alerts
Check-ins with reminders
Check-in interval
Man down or fall detection
SMS notifications with the ability to choose emergency contacts
Loud siren to attract attention

The Duress App lets employers monitor their workers to ensure they are out of harm's way at all times. It is easy to use because the employee just needs a smartphone to download the app. From there, the remote worker can set specific functions, including a check-in timer, which is suitable for those that work in tunnels or mine sites. If they do not resurface on schedule, the employer can immediately send for help.

Duress WatchAustralian businesses love the Duress Watch for many reasons. It is unobtrusive, compact, and can be worn by workers. This wearable is useful for at-risk employees, including factory and remote workers. When in trouble, it only takes a few minutes for help to arrive.

An employee can raise an alert or miss a check-in. The specific signal will be monitored live through a video stream, allowing the monitoring team to assess the situation. Upon confirmation, contacts are quickly notified. At the same time, the response team is dispatched to provide assistance.

The Duress Watch includes an SOS or Panic button, two-way communication via 4G cell coverage, emergency escalation, and GPS location tracking.
Simply Unified provides low-cost solutions for employers and employees alike. Our Duress products are easy to use and effective in managing the safety of lone workers, at-risk employees, remote workers, or isolated employees. No matter what time of day and in any location, the right Duress app and hardware can help save lives by providing real-time updates, notifications, and even constant communication between the two parties.
Buy the suitable Duress product for your business or get in touch with our expert staff if you need help.