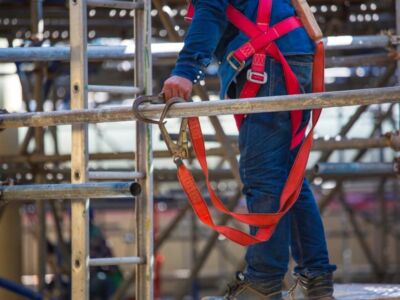 Working alone is an excellent option for people who enjoy working at their own pace. It's also a great alternative for those who prefer to be in a one-person team. Remote work has grown exponentially, up to 40% of Australian workers, especially in the last three years or so.
Good organisations have employee safety at the top of their priorities. After all, it is every employer's duty, often with some legal responsibilities involved. Although workplace fatalities have decreased by 35% from 2012 to 2021, injury risks are still high, especially for lone workers. To combat the problem, reliable lone worker safety procedures and practices should be in place.
A variety of lone-worker safety monitoring technologies are out there to solidify the safety of a remote workplace. Each of these technologies has pros and cons, which we will explore so that you can choose and implement the most effective for you:
1. GPS Tracking Devices
When GPS was first introduced for worker safety monitoring, it was considered a significant breakthrough. Individuals, especially those working remotely, can be tracked even in areas with no cellular coverage and whilst on the move.
Pros
Get the real-time location of employees.
GPS devices can be useful for fleet management.
It's easier to track and optimise routes to arrive at destinations quicker.
GPS can help make emergency responses more effective.
Cons
GPS tracking devices may be outside the budget of a small firm.
Signal disruptions can happen due to nearby radio band emissions, jamming, and space weather.
Although GPS is accessible worldwide, some indoor spaces may block the technology from working properly.
GPS tracking devices are useful in tracking the real-time location of your employees. They can be used to track routes and mileage, and even confirm work hours from a remote/central area. GPS devices can supplement safety protocols for employees who need to travel or have projects in hazardous conditions.
2. Mobile Apps
Different safety apps offer specific functionalities, such as meeting compliance regulations and providing alert systems for employees. Some allow check-in and check-out logs, which many employers use to monitor workers.
Pros
Mobile apps are generally user-friendly – no need for confusing, long-winded tutorials.
You can integrate mobile apps with other systems.
Employees can retrieve the information they require in real-time.
Cons
Many mobile apps rely on the Internet and cellular service.
Not all work environments can benefit from mobile apps, even those designed for their specific industry.
Some worker safety apps are free but offer basic monitoring capabilities. You need to pay subscription fees to access premium features.
Mobile apps are useful but may not be enough when used alone in emergencies. Some alert apps are unreliable. Also, it may be difficult for an employee to reach for their phone, unlock it, open the app, and press the panic button.

3. Panic Buttons
Speaking of the panic button, why not use one for your lone workers? It is an unobtrusive wearable device that employees can press to signal employers or other workers that they are in an emergency.
Pros
Panic buttons are straightforward devices. Just tell your employees to press for help.
The device does not interfere with any activity, including running around.
It's cost-effective as it does exactly what it promises to do.
Cons
You could get false alarms since some panic buttons can be triggered accidentally.
The device may not work well in noisy environments.
Using panic buttons in remote areas may not be helpful.
Panic buttons can start a shrieking alarm to let others know someone is down, injured, or immobilised. Others are discreet enough to help those who may be in danger, sending an SMS or email to the employer.
4. Personal Safety Alarms
Similar to a panic button, a personal safety alarm is a wearable device that can be customised according to the needs of the user. It can be used with a mobile device or an Internet connection. Employers can set up people, such as supervisors or colleagues, to contact or alert in an emergency.
Pros
Wearable safety devices are out of the way so employees can work without distraction.
These alarms usually don't look like big emergency buttons, so employees can wear them safely.
The device can be used with the employee's phone through an app.
Cons
Providing wearable technology for employees is a costly undertaking.
The device may require frequent charging.
There could be phone compatibility issues.
Depending on the work your employees do, the device may break easily.
Wearable technology lets workers seamlessly integrate technology into their daily work. These personal safety devices can make remote workers' lives easier when deployed properly.

5. Two-Way Radios
Two-way radios promise to enhance the safety of lone and remote workers. These devices are robust and cost-effective. They're also easy to use, with no dialling and connection required.
Pros
Research showed that two-way radios have a lower failure rate (4-8%) compared to cellular devices (18-20%).
Two-way radios offer a lower lifetime cost.
Group communication is so much easier and simpler.
Connection is not needed to use the devices.
Cons
Limited range is a huge issue.
Two-way radios are not recommended for noisy work environments.
Battery life can be a problem if an emergency arises.
Two-way radios do not require software applications to monitor lone workers. Although they are useful and affordable, they are usually insufficient, especially when used on their own. The lack of awareness and central visibility can put workers at risk. Therefore, it is beneficial to have other systems in place to supplement two-way radios.
Choose Your Remote Worker Monitoring Technology Wisely
With many options for lone working monitoring out there, it is important to select the most suitable system for the workplace. Test the technology and make sure to hold employee training. If you need to look for training workshops for your employee, you can try workshops from Essemy. Alternatively, you can also explore asset visualisation and remote viewing technologies highlighted in RemSense's articles. Have a plan and ensure everything is working. Employers should also review and re-test their safety procedures regularly to see if there are any gaps in the prior assessments.
At Simply Unified, we have a suite of workforce and lone-worker safety solutions that meet your needs and budget. Keep your business compliant when it comes to employee safety and protection with wearables and other technologies. Check them out here.