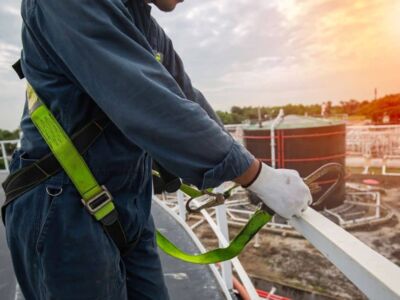 Are you looking for the ideal technology to keep your lone employees connected while ensuring their safety? Could there be a solution that can assist you in transforming your workplace safety plan and help you achieve your desired results in terms of protection, productivity, and performance?
There are several aspects to consider when buying equipment. They include ease of use and setup, mufti-functionality, connection variety, battery life, and report production, among other things. For a much safer workplace, let's consider some crucial things you may need.
What You Need For A More Streamlined Workplace
According to the International Labor Organization, a worker dies in a workplace accident every 15 seconds. Workplace injuries also increase absenteeism and are estimated to cost the global economy $ 3 trillion. Functional, connected security solutions can help you save lives while boosting earnings.
Connected devices help build trust and confidence in lone employees. They assure that they will receive the employee support they deserve to work efficiently. This is a crucial consideration in light of demographic shifts in the workplace. Today, workplaces are under various transformations. Younger ones are replacing older personnel. Young Boomers are less skilled and more likely to be hurt but can quickly learn new technology and work styles.
People in charge of security programs know the amount of effort necessary to run a successful business. There's a lot to do, from equipment monitoring to estimating the number of individuals involved in evacuations and crises to investigating accidents and reporting compliance. It can be challenging to obtain the level of effectiveness required for scaling and saving lives. They require linked security technology that readily integrates with existing programs and delivers data and best practices for future success.
To help you make the best decision possible, we've compiled a list of the top 10 questions to ask and the capabilities to look for. They include:
1. How Easy are Connected Devices To Use?
The easier it is to turn on, connect to, and utilize your gadget, the lower the adoption barrier. You would want to know the following.
Set-Up Time
This depends on whether you have authorized automatic firmware upgrades. If you don't have to upgrade your device, the complete setup process, including device registration, should take less than 5 minutes. This method can take a long time if the device needs to be updated.
Their Integration With Existing Systems
Connected devices must be able to interact with and interact with existing programs. A device like Hubs allows many computer network devices to communicate. Since it connects LAN devices using the same protocol, it is the simplest of networked devices.
2. What Are Their Connectivity Options?
Many industrial sites are remote locations, making communication difficult. You must ensure your device works at all times and in all places.
Cellular and Satellite Connectivity
Check if the devices are wireless network-enabled. These technologies include GPS, PDAs, cellular, and satellite connectivity, to name a few. A wireless network can be defined as any network that facilitates communication without cables. Wireless networking has several advantages. A good example is they can connect in difficult-to-reach places with poor cellular connections.
Using Satellite Connectivity
Satellite services are a viable option for businesses without DSL or cable, as is the case in very remote locations. A clean line of sight to the satellite is required for satellite dish antennas, which can be difficult to establish in highly forested areas or where other barriers are present.
3. How Multi-Functional Are They?
Single-purpose devices are a thing of the past. It's all about convenience and convergence, which means you'll need a gadget that can do more than one thing. Check out for:
Gas Detecting Devices
Today, simple smartphone sensors are developed to detect the type and amount of gas in a sample of air. According to the researchers, using a smartphone to measure gas makes activities like identifying indoor air quality easier.
Sensor Configuration
Make sure your devices have sensors that can detect motion, direction, and various environmental factors. These sensors can provide raw data with high precision. These are necessary for monitoring environmental changes.
4. What's Their Battery Life?
Employees and facilities are safeguarded since connected devices are always on, recording and relaying data 24/7. You need meticulous tech equipment with long battery life for maximum efficiency and performance. Try and find out the following:
Additional Battery Packs
One of the advantages of the battery pack is how easy it is to connect and disconnect it from the device. This will speed up the execution of many packs, allowing the device to be used for other purposes, and removing packs will be charged separately.
5. How Are Alerts Managed?
If seconds matter, ensure alerts are sent and received quickly to and from the responders so that the emergency response can be properly managed. It should take less than a minute to complete the procedure. You'll want to know:
SOS Minimum and Maximum Time
It's crucial to know how long it will take to issue an SOS at work. In Morse code, SOS stands for "procedure signal" or "sign." It is used as a message start sign for communications requesting assistance when death or catastrophic property loss is imminent.

6. What Are The Monitoring Options?
When connected to the proper monitoring system, the connected equipment can quickly respond in an emergency and even save lives if seconds matter. Make sure that you are aware of:
Self-Monitoring Software
Lone worker technology such as self-monitoring software helps lone workers track meaningful data about themselves as they work.
7. What Are The Reporting Capabilities?
To get a complete view of your security program's success, you must be able to determine all aspects of it. Comprehensive reporting features enable you to gather all the data you need to maintain compliance while benchmarking, updating, and improving security. From information to best practices and strategic insights, connected devices combined with software analytics can offer the right intelligence to help prevent incidents and break down barriers to effectiveness. You'll want to know:
APIs
it is important to ensure your connected devices have API configuration. A device API is application software that lets developers make online apps that integrate with device hardware. End-users can utilise the device API to engage with the web in ways that may not be possible using regular web browsers.
8. How Easy Is The Implementation?
Various hidden costs may be involved with introducing new technology, ranging from difficult environments to administrative difficulties to prolonged deployments. So ensure you are familiar with:
Basic Training
A better understanding of the Internet, computers and other connected devices are required to develop digital abilities. If you master these skills, you will have more opportunities to further your career.
9. Which Security features Are Available?
Your business's trust and reputation depend on data security. You'll need a certified and dedicated security team and a partner with the necessary security features. You'll need to know:
If They Use Multi-Factor Authentication
The main benefit of MFA is that it strengthens your organisation's security by requiring users to identify themselves using multiple login credentials. Furthermore, third parties can gain usernames and passwords, which are vulnerable to brute force assaults.
10. What Purchase Options Are Available?
Flexible purchase approaches to ensure that Connected Worker technology fits your budget, whether you're renting, leasing, buying outright, or combining all three. Make sure you are familiar with:
If They Have Flexible Purchase Options
Businesses can reach out to a new and growing consumer base by providing a choice of payment methods. Clients also feel comfortable in difficult economic circumstances knowing that they can choose from several payment alternatives over time.
Conclusion
On our website, we have more information to help you out. Click here and see for yourself.